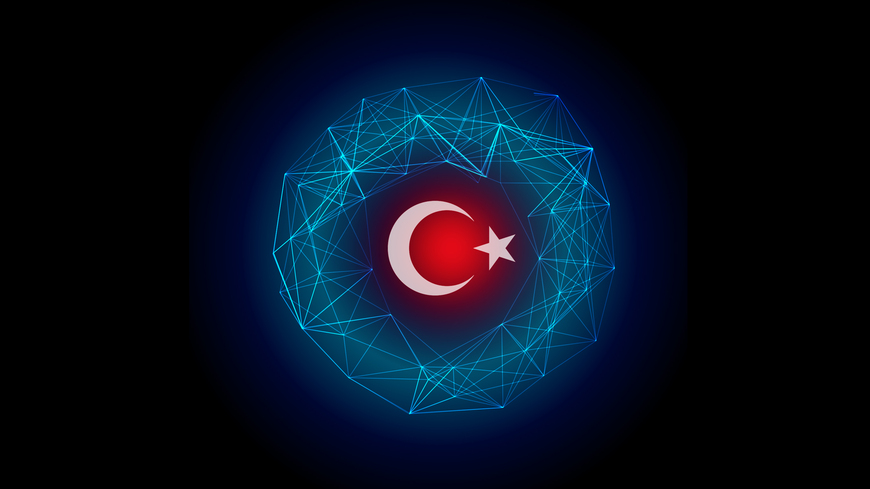 "The printing revolution filled the knowledge gap; the industrial revolution filled the power gap; the internet revolution filled the distance gap and the blockchain revolution will fill the confidence gap," writes Turkish economist Erkin Sahinoz.
Blockchain, which emerged in 2008, is a highly secure, independent and reliable technology. It initially served as the basis of cryptocurrencies such as bitcoin and was often confused with them, affecting investor confidence when cryptocurrencies have collapsed. Since then, however, its reliability has prompted questioning of the existing monetary system, controlled by central banks, and even states that are unwelcoming to cryptocurrencies have come to look for ways to benefit from blockchain technology.
Last year, for instance, Russia and China signed an $882 million deal on the development of blockchain technologies. Blockchain will enable document tracking via a reliable network over which electronic records can be transferred without the need for verification by third parties.
In Turkey, the first big step toward the use of blockchain came on June 8, when the Turkish Informatics Foundation held an event to establish the Blockchain Turkey Platform. In a statement the foundation sent to Al-Monitor, its president Faruk Eczacibasi stressed that confidence is the pillar of business life and all forms of human exchanges.
"The cost of confidence is still very high. Today, we are embarking on a path to add a third [element] — confidence — to double-entry bookkeeping, which we have been using for more than 500 years," he said.
Speaking at the gathering, Soner Canko, director-general of Turkey's Interbank Card Center, said, "Blockchain technology will shape the future."
The objectives of the Blockchain Turkey Platform are as follows:
Create a robust blockchain ecosystem through cooperation between the private sector, universities and public institutions.
Support entrepreneurs, develop new business models, organize training, activities and publications and cooperate with blockchain platforms in other countries.
Explore the benefits of blockchain, determine strategic priorities and work to popularize the use of blockchain.
Prepare regulatory drafts for the legal infrastructure of blockchain.
Speaking to Al-Monitor, former Industry and Trade Minister Kenan Tanrikulu said Turkey should start using blockchain as soon as possible and should even consider issuing a cryptocurrency under state control. Central banks cannot resist this new technology and the products it supports for long, he said, adding, "Blockchain is a reliable technology that can be used efficiently primarily in the finance sector. I believe it will extend to many sectors, including law, in the future."
According to Tanrikulu, all central banks, including the US Federal Reserve, will be compelled to use this technology in various transactions such as money transfers. Given the rapid advance of information technologies, its spread will not take long.
Turkish Informatics Foundation co-founder and former parliament member Emrehan Halici believes that blockchain technology could also be used in conducting public opinion polls. He told Al-Monitor, "Interventions are not possible in the blockchain system because it is not managed from a single center. Everybody would be able to see it. In the future, polling companies will not be able to tinker with the results of surveys because the system operates transparently. Information and money exchanges will be also conducted in a more transparent and reliable environment. The trustworthiness of trade, financial applications and any information exchange is very important. In the future, even elections could be held via this system."
Halici stressed that transparency is a major issue of concern in Turkey, from state governance to the management of nongovernmental groups. "This technology provides a more transparent and controllable environment in all contentious relationships. With multiple centers, everyone is part of and controller of the system," he said.
Another question is whether blockchain could become an alternative to the internet. Halici noted that while the internet is a network for all types of information, blockchain offers specific functions such as the use and organization of databases and data. "Blockchain should be considered as separate from the internet. It could be seen as a platform between computer software developers," he said. "The control of the system does not rest with a single person or entity. It is a joint configuration of computer systems scattered in various places and working in parallel to each other. This makes for an independent, reliable and transparent environment."
Halici said the Blockchain Turkey Platform seeks to raise awareness about the technology, adding that preparations have been underway in both the private and public sector for several years, though the technology is not yet in use. "Everybody is making preparations, especially the finance sector. They have started to understand it and explore the ways it could be used," he said. The platform, he added, will enable direct knowledge transfers by bringing together local and foreign organizations.
The financial sector in particular has high expectations from blockchain technologies due to their promise of more trustworthiness and speed in commercial transactions. Halici, however, emphasized that blockchain technologies could also impact the political realm in Turkey, serving as a "notary" in elections, which are often marred by concerns of vote-rigging. Once the use of the technology becomes widespread, it could help ease popular distrust in legally controversial realms.
Read more: http://www.al-monitor.com/pulse/originals/2018/06/turkey-turkish-foundation-to-support-blockchain.html#ixzz5Je0vgCSh
Cover image by Hugo Goodridge/Al-Monitor